Today, I bring you a fun little comparison between my two favorite online bookstores – BookOutlet and Thriftbooks!
While I'm aware there are hundreds, probably thousands, of online bookstores and sellers, these are the two I find myself visiting frequently, and therefore have the most experience with. They also happen to be very different from each other in some respects.
I hope you find this post fun and informative!
Please note that all of this information was current at the time of this writing. Any policies, products, rewards systems, or sales of these two sites is subject to change.
Thriftbooks:
Thriftbooks is a fun site that offers everything you can think of, from the latest releases to rare collectibles.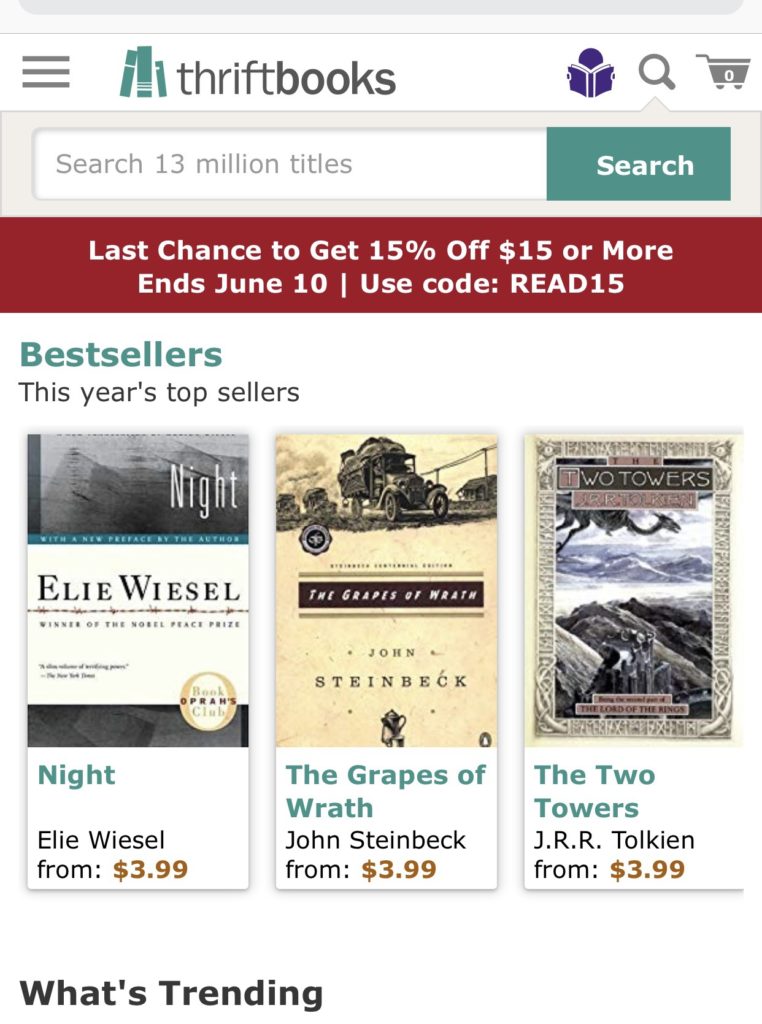 The Pros:
1. Great for locating OOP (out of print) titles. In fact, I would say this is where Thriftbooks shines. I have been able to locate some books that have been on my wishlist for awhile, at a much better price than I would pay elsewhere. Also, if you have a fondness for adopting old library books, this is the place for you.
2. Shipping is free at $10 and up, and since the average cost of a book is $3.99, it's ridiculously easy to meet this threshold.
3. Items ship lightning fast, due to multiple fulfillment centers around the USA.
4. Rewards program builds quickly. Right now, at the level I am (levels vary based on money spent), I earn 8 points for every $1 spent. Once you earn 500 points, you can pick a free book up to $5 in value. The free book will still contribute to the $10 shipping limit, as well.
5. Referring a friend earns 15% off for them, and 15% off for you.
The Cons:
1. While brand-new titles are offered, they tend to be at, or close to, full retail price.
2. The condition varies a LOT. Since these are all used books, they are graded on the classic scale (acceptable, good, like-new), but I have ordered titles labelled as "good" that were quite battered/dented, and others under the same grade that looked new, with no visible flaws. Perhaps ironically, the books labelled as "acceptable" are usually the most accurate.
3. Books are mailed in very flimsy plastic envelopes with no padding, which could very well contribute to the issue I mention above.
4. Since one order may contain books from several fulfillment centers, you're highly likely to get multiple packages at once. While I personally do not mind this, I know others may find it annoying to place a big order and have it come to them separately over the course of a week, instead of all at once.
5. The rewards build quickly, but are maxed out at a $5 value, meaning you can't keep stacking them for a bigger purchase.
BookOutlet:
Unlike Thriftbooks, BookOutlet gets its items from publisher overstock, so it's a great resource for tracking down newer titles that might pique your interest, but you don't want to spend full price on.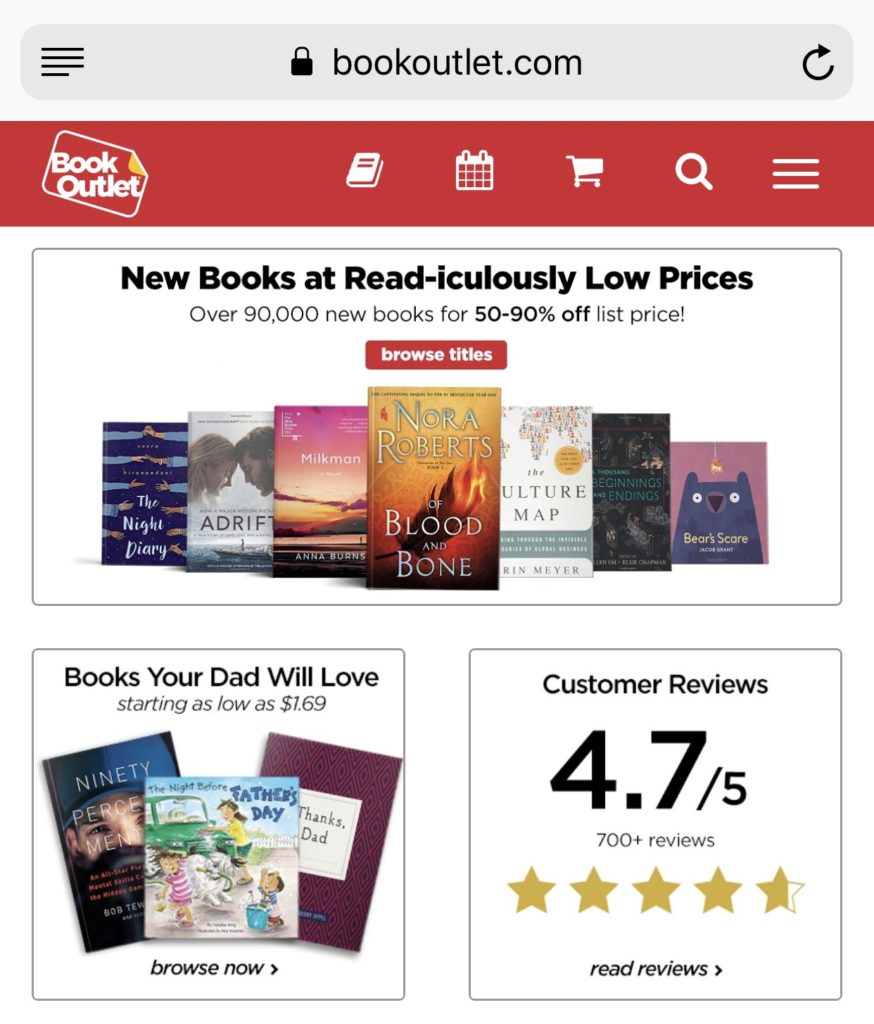 The Pros:
1. This is a fantastic way to locate newer, hot titles, especially if you're a fan of YA. However, they have books in a wide range of other categories, too.
2. Because the books are usually overstock, they are in like-new or even brand new condition. You can order a book for a gift and be confident it will look nice. One exception: BookOutlet does offer "scratch and dent" books at even further discounted prices, but not for every title.
3. Shipping is free at $35 and up, which, though higher than Thriftbooks, is certainly not outrageous.
4. Books are protected during shipment. I have only received one order in a thick cardboard envelope; the rest have come carefully packed inside boxes. That's impressive to me, since even Amazon Prime doesn't box many orders anymore.
The Cons:
1. The reward program builds slowly. You earn 1 point for every $2 spent.
Their referral program does give you a $10 off $25 link to send to a friend, which, if used, will earn you 200 points. (The equivalent of your own $10 off.) This is a decent referral, but people who prefer to forgo referrals and casually shop will not see rewards for a long time. The plus side is that the points do not seem to stop accumulating until you hit $20 in rewards.
2. Unsurprisingly, since BookOutlet relies on overstock for its inventory, you are out of luck if you're looking for rare or out of print titles. The scratch and dent titles mentioned earlier are still overstock, just a little worse for wear.
3. They don't often have new, new titles. A bestseller from six months ago? You can usually track a copy down. A new book that just came out last week? Probably not.
Tie:
1. Shipping speed. Thriftbooks typically takes around a week to receive. BookOutlet is slightly faster at five days, but not enough where I felt justified in listing either timeframe under a Pro or Con.
2. Both sites always offer a plethora of deals. BookOutlet will often slip a $5 voucher into shipments. Thriftbooks has a Deals sections where you can bundle titles together in one order for a flat fee. Both sites also frequently offer bonuses, such as 15% off orders of $30+, free shipping, etc. It's worth checking the sites out if you want to place an order, since the deals change constantly.
Conclusion:
While both sites have amazing perks, I would really sum them up in this way: go to Thriftbooks if you love the thrill of discovering out of print treasures, enjoy giving library books a new home, or simply want books for cheap and don't mind their condition. Use BookOutlet if you gravitate towards recent releases, are looking for a gift, or if it's important to you that your books look new.
Thank you so much for taking the time to read this post. I hope you enjoyed it, and remember to join me on June 26th, when I do my first Monthly Reading Wrap-Up!
Keep learning, y'all.