As someone who knows all too well how easy it is to fall into the consumerism that plagues our society, I admit I have not always made the best choices when it comes to my purchases. When I embarked on my "moderate minimalist" journey, one of the first things I cleaned out was my collection of cheap jewelry. I was over buying $5 necklaces that tarnished within a month, and decided that instead of buying ten cheap pieces, I would buy a few higher quality pieces I could wear all the time, a.k.a a capsule jewelry wardrobe. I became frustrated with other articles I found online when I was researching this. The jewelry was beautiful, but the average person can't shell out $500 on a bracelet. I am putting this article together in the hopes it helps someone else out. Enjoy!
Decide which pieces are most important.
This is obvious, but I wanted to mention it. If you are someone who loves rings, like me, you will probably want to focus on finding several good ones. Don't purchase an item you dislike just because it's a "staple" that "every woman should own"; if you don't like pearls, a pearl necklace that isn't your style will just be a waste of money. This is also a great time to really hone in on your personal style. Are you someone who prefers delicate, dainty items? Do you want to make a bold statement? Does it change depending on your mood? Think about the pieces you currently have that you enjoy the most, and go from there.
Know which areas you can save on…..
If you don't have the budget for pricey pieces, don't worry! You can still get beautiful jewelry for less. Sterling silver is durable, beautiful, and classic, and you can typically find nice examples of it for less than $100. Love the look of gold, but not the price tag? Aim for 14k, 18k, or even 24k gold-filled items. Gold-filled jewelry is made by bonding gold to another metal. It's much cheaper than pure gold, will last longer than gold plating (more on that later), and if properly cared for, it will last for years. Instead of diamond stud earrings, you can go for cubic zirconia, just make sure you maintain it carefully since it isn't as durable as a diamond. Swavorski crystals come in a multitude of gorgeous colors and are very inexpensive, but are best suited for something like earrings, where they are less likely to be knocked against surfaces, like what occasionally happens to bracelets or rings.
Don't forget to hit up discount stores, too. These often carry nicer jewelry at a lower price. The hoops I have pictured at the bottom of this article were found at Ross for $19.99.
And when to splurge.
If you want something genuine instead of Swavorski crystals, you can buy colorful, real gemstones for relatively low prices. These are often referred to as "semi-precious", but they are just as beautiful. Think: blue topaz, amethyst, garnet, etc. Make sure you only buy pieces set in quality metal—silver, gold, or gold-fill—and follow the same cleaning rules as the cubic zirconia mentioned above, since some of these gemstones are more easily scratched and damaged. Of course, lab-created stones are also an option!
If you wish, you can definitely save up for really expensive pieces, too; it's all up to you and your budget! Try to purchase from a store that offers warranties that include cleaning and repairs; it will save you a headache if something should ever happen to your jewelry.
Know what terms to watch for.
If an item is listed as gold-plated or gold toned, this is a sure sign it won't last. Gold plating consists of only a thin layer of gold over another metal, usually a cheap one like brass. It will wear off and become unsightly! Gold vermeil jewelry is having a moment right now, and this is slightly higher quality, since the metal used under the gold is sterling silver. However, I personally would still exercise caution with this, since the karat and thickness can vary widely between companies. Even though gold-filled jewelry consists of other metals underneath too, the fact the gold is chemically bonded, instead of simply plated, makes all the difference in durability.
Customize to make it special!
This is my favorite thing to do! If you want beautiful pieces you can wear daily, and support artists to boot, the best course of action is to buy from a small business. I love Etsy, because it allows you to message sellers whose work you enjoy, and you can request them to make something just for you. You will have something that will last forever, and it will be tailor made. Bear in mind that this can cost more, depending on the complexity of your request, but I would much rather know my money is going to an independent artist. If you don't want to go all out and have a completely customized piece, you can always get something simple like a disc necklace and have your initial engraved on it. Or, you can buy ready-made pieces from artists. Many local specialty stores carry items from local artists, which is a great way to support your community and have something unique.
Below are some examples of my own jewelry: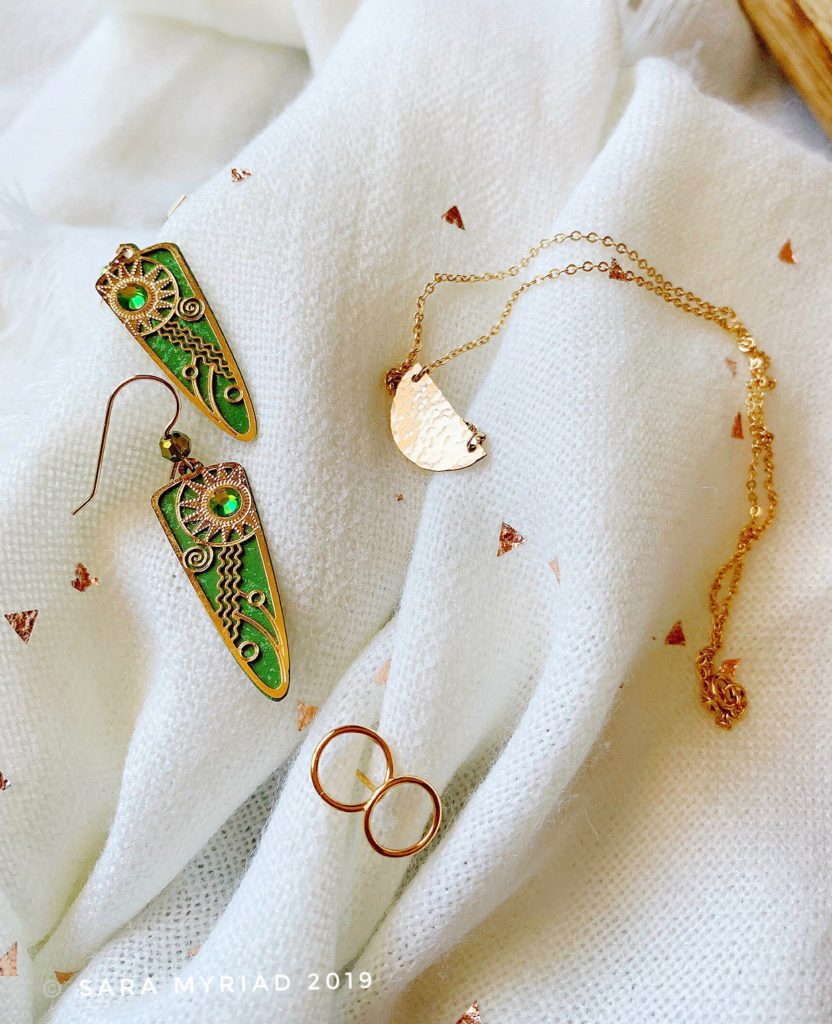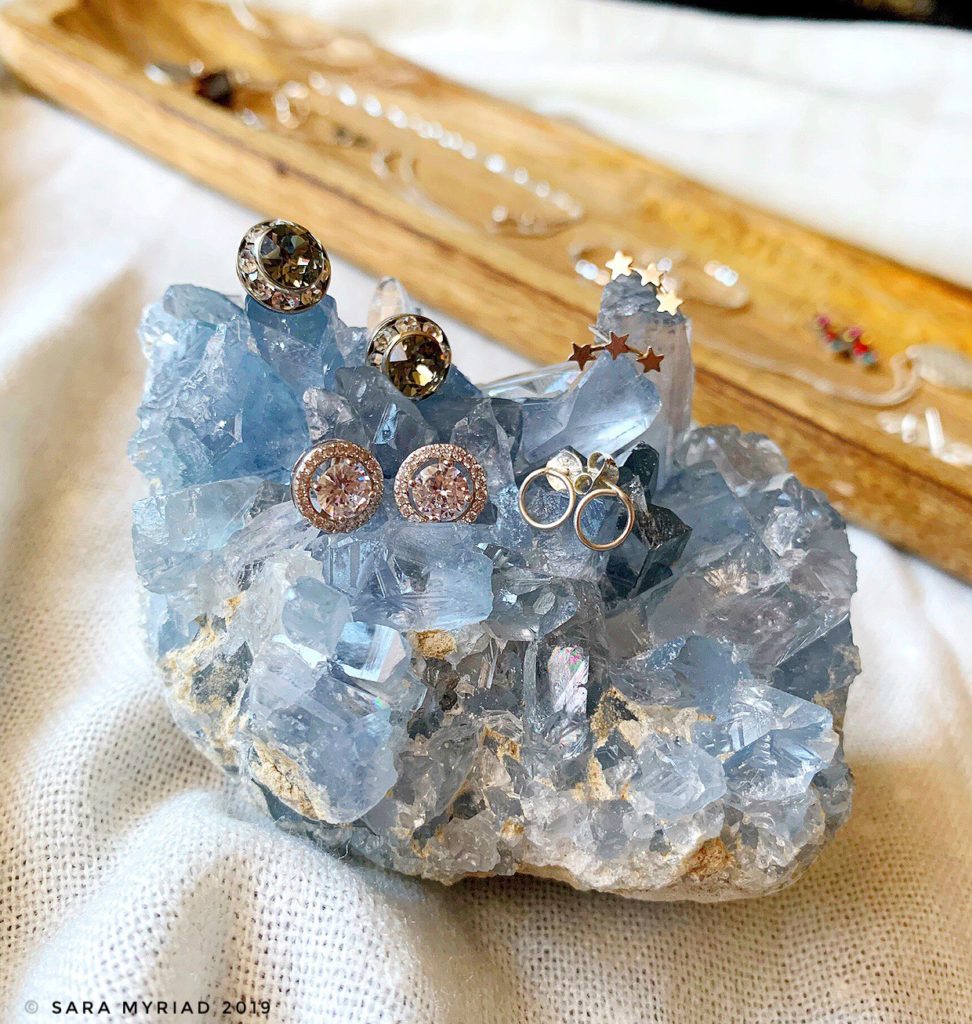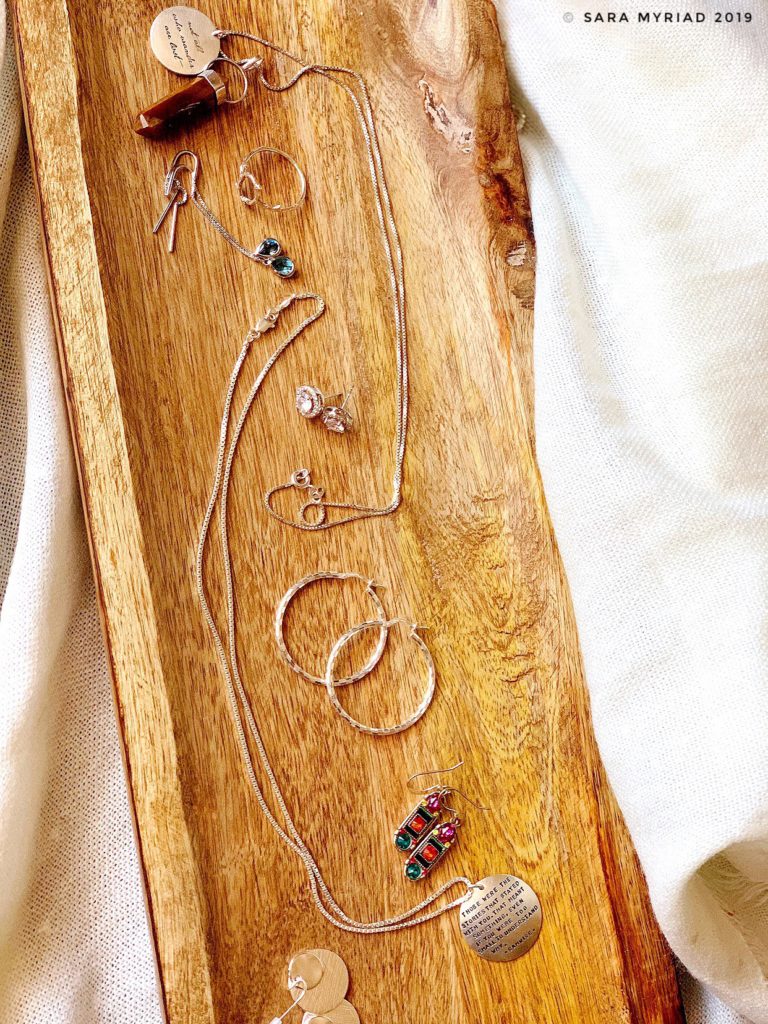 Please remember, these are all tips and approaches that worked for me. You may have other techniques that work for you and don't have to follow these to the letter. I hope that this post was helpful and gave you some tips to begin creating your own capsule jewelry wardrobe!
What do you think? Do you also enjoy jewelry? What pieces do you most want to own? Let me know!