I hope everyone is staying cozy and warm today; we had quite a bit of snow dumped on us, so I ended up staying home. It worked out perfectly, because I had been compiling a little list of fun books that are great for this time of year. If you have someone you need a last-minute gift for, or just want to treat yourself, I hope you are able to walk away with a couple of ideas.
Please note: all of these titles can be easily found on Amazon, but I opted to utilize IndieBound. I would rather spend more and know the money is staying in my community, but of course, everyone has the right to pick the retailer that best fits their needs and budget.
P.P.S. Apologies to those who wanted to leave a comment on my last post. (The Introvert's Winter). The mobile app for WordPress has inexplicably started disabling the comment box, and the only way to fix it is via desktop. That post is fixed now, and since this post is being typed up on my laptop, it shouldn't have the same issue.
For People who Love Mystery: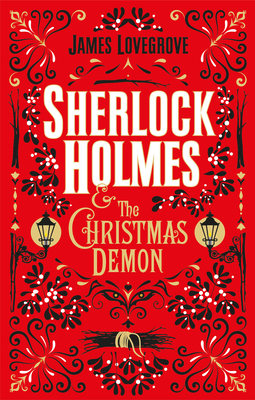 Sherlock Holmes & The Christmas Demon by James Lovegrove
"It is 1890, and in the days before Christmas Sherlock Holmes and Dr John Watson are visited at Baker Street by a new client. Eve Allerthorpe – eldest daughter of a grand but somewhat eccentric Yorkshire-based dynasty – is greatly distressed, as she believes she is being haunted by a demonic Christmas spirit.
Her late mother told her terrifying tales of the sinister Black Thurrick, and Eve is sure that she has seen the creature from her bedroom window. What is more, she has begun to receive mysterious parcels of birch twigs, the Black Thurrick's calling card…
Eve stands to inherit a fortune if she is sound in mind, but it seems that something – or someone – is threatening her sanity. Holmes and Watson travel to the Allerthorpe family seat at Fellscar Keep to investigate, but soon discover that there is more to the case than at first appeared. There is another spirit haunting the family, and when a member of the household is found dead, the companions realise that no one is beyond suspicion."
Sara's Note: A fun, mysterious, and creepy romp in the classic Holmes style we all know and love.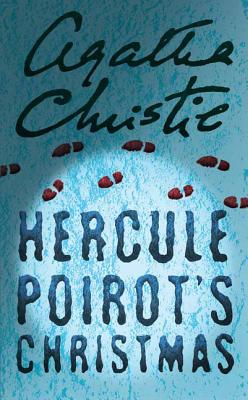 Hercule Piorot's Christmas by Agatha Christie
"In Hercule Poirot's Christmas, the holidays are anything but merry when a family reunion is marred by murder — and the notoriously fastidious investigator is quickly on the case. The wealthy Simeon Lee has demanded that all four of his sons — one faithful, one prodigal, one impecunious, one sensitive — and their wives return home for Christmas. But a heartwarming family holiday is not exactly what he has in mind. He bedevils each of his sons with barbed insults and finally announces that he is cutting off their allowances and changing his will….."
Sara's Note: This is technically #20 in the Hercule Piorot series, but you don't need to read the previous volumes to dive right into this one.
For People who mix Holidays with Horror: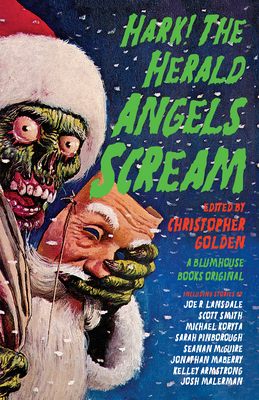 Hark! The Herald Angels Scream edited by Christopher Golden
"Eighteen stories of Christmas horror from bestselling, acclaimed authors including Scott Smith, Seanan McGuire, Josh Malerman, Michael Koryta, Sarah Pinborough, and many more.
"That there is darkness at the heart of the Yuletide season should not surprise. Charles Dickens' A Christmas Carol is filled with scenes that are unsettling. Marley untying the bandage that holds his jaws together. The hideous children–Want and Ignorance–beneath the robe of the Ghost of Christmas Yet to Come. The heavy ledgers Marley drags by his chains. In the finest versions of this story, the best parts are the terrifying parts.
Bestselling author and editor Christopher Golden shares his love for Christmas horror stories with this anthology of all-new short fiction from some of the most talented and original writers of horror today."
Sara's Note: Some anthologies are quite weak in their offerings; this one is pleasantly not.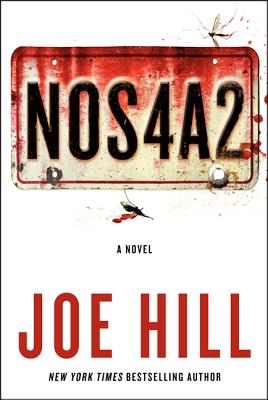 NOS4A2 by Joe Hill
"Victoria McQueen has a secret gift for finding things: a misplaced bracelet, a missing photograph, answers to unanswerable questions. On her Raleigh Tuff Burner bike, she makes her way to a rickety covered bridge that, within moments, takes her wherever she needs to go, whether it's across Massachusetts or across the country.
Charles Talent Manx has a way with children. He likes to take them for rides in his 1938 Rolls-Royce Wraith with the NOS4A2 vanity plate. With his old car, he can slip right out of the everyday world, and onto the hidden roads that transport them to an astonishing – and terrifying – playground of amusements he calls "Christmasland."
Then, one day, Vic goes looking for trouble—and finds Manx. That was a lifetime ago. Now Vic, the only kid to ever escape Manx's unmitigated evil, is all grown up and desperate to forget. But Charlie Manx never stopped thinking about Victoria McQueen. He's on the road again and he's picked up a new passenger: Vic's own son."
Sara's Note: Terrifying and classic. If you haven't read this one yet, buckle up.
For Foodies: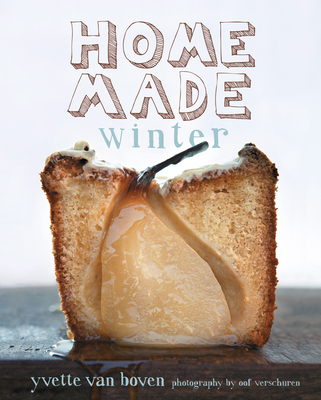 Home Made Winter by Yvette Van Boven
"HOME MADE blew readers away with its stunning package, delicious recipes, beautiful photos, step-by-step instruction, and Yvette van Boven's own hand-drawn artwork throughout the book. Van Boven's passion for great food and good humor could be felt on every page in the book. Now, in the follow-up HOME MADE WINTER, van Boven's heartfelt work is presented again, this time with recipes intended for the winter season. Inspired by her childhood in Ireland and her frequent sojourns in France, she has created a collection of recipes that will warm your heart. Chapters include Breakfast, Brunch & Lunch; Pies and Sweet Things for Tea Time; Beverages; To Start; and Dessert. She focuses on simple recipes for classic dishes such as apple cider, BBQ pulled pork, ricotta cheesecake, and more. Step-by-step, she explains how to make butter, beef sausage, and baileys. She also features her favorite winter holiday recipes. This book is sure to become the next must-have for home cooks."
Sara's Note: Really fun, gorgeous book for the adventurous foodie, but probably not the best choice for someone with limited access to unusual ingredients.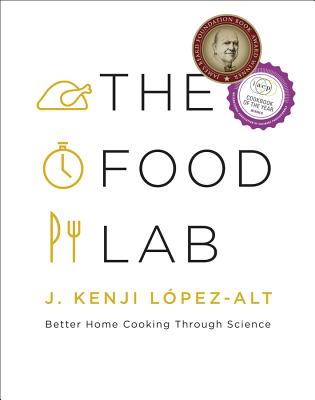 The Food Lab, Better Home Cooking Through Science by J. Kenji López-Alt
Ever wondered how to pan-fry a steak with a charred crust and an interior that's perfectly medium-rare from edge to edge when you cut into it? How to make homemade mac 'n' cheese that is as satisfyingly gooey and velvety-smooth as the blue box stuff, but far tastier? How to roast a succulent, moist turkey (forget about brining!)—and use a foolproof method that works every time?

As Serious Eats's culinary nerd-in-residence, J. Kenji López-Alt has pondered all these questions and more. In The Food Lab, Kenji focuses on the science behind beloved American dishes, delving into the interactions between heat, energy, and molecules that create great food. Kenji shows that often, conventional methods don't work that well, and home cooks can achieve far better results using new—but simple—techniques. In hundreds of easy-to-make recipes with over 1,000 full-color images, you will find out how to make foolproof Hollandaise sauce in just two minutes, how to transform one simple tomato sauce into a half dozen dishes, how to make the crispiest, creamiest potato casserole ever conceived, and much more.
Sara's Note: While not strictly a Christmas or winter themed book, this is such an information-packed offering that it would be, in my humble opinion, a crime to not gift it to the passionate home cook.
Bonus: For the Knowledge Seekers: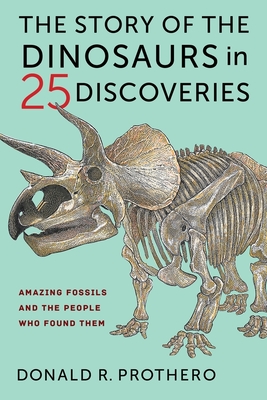 The Story of the Dinosaurs in 25 Discoveries: Amazing Fossils and the People Who Found Them by Donald R. Prothero
Today, any kid can rattle off the names of dozens of dinosaurs. But it took centuries of scientific effort–and a lot of luck–to discover and establish the diversity of dinosaur species we now know. How did we learn that Triceratops had three horns? Why don't many paleontologists consider Brontosaurus a valid species? What convinced scientists that modern birds are relatives of ancient Velociraptor?
In The Story of the Dinosaurs in 25 Discoveries, Donald R. Prothero tells the fascinating stories behind the most important fossil finds and the intrepid researchers who unearthed them. In twenty-five vivid vignettes, he weaves together dramatic tales of dinosaur discoveries with what modern science now knows about the species to which they belong. Prothero takes us from eighteenth-century sightings of colossal bones taken for biblical giants through recent discoveries of enormous predators even larger than Tyrannosaurus. He recounts the escapades of the larger-than-life personalities who made modern paleontology, including scientific rivalries like the nineteenth-century "Bone Wars." Prothero also details how to draw the boundaries between species and explores debates such as whether dinosaurs had feathers, explaining the findings that settled them or keep them going. Throughout, he offers a clear and rigorous look at what paleontologists consider sound interpretation of evidence. An essential read for any dinosaur lover, this book teaches us to see an ancient world ruled by giant majestic creatures anew.
Sara's Note: Also not very Christmas-y, until you remember that learning is the greatest gift of all. I'm just sayin'.